URLProfiler has been my secret weapon for the past few months and if you are serious about SEO it will be a part of your arsenal too. 
I was part of the beta testing group and have been in the lucky position to master this tool which has significantly improved several of my day to day processes for many different things. URLProfiler carries out numerous checks on a list of URL's which really help speed up link classification – it is equally useful whether you are reverse engineering a competitor link building campaign, doing a Panda audit or simply auditing links due to a manual penalty.
In this post I will cover how you can use the tool to help you to audit a link profile and build up a contact list for link removals.
Adding URL's to URLProfiler
When I conduct a link audit I start by pulling together as much  information as possible from all the different SEO tools I have access to. I combine all of this data into one single file and load into URLProfiler.
Importing your URL's into URLProfiler is very easy and it accepts a lot of common file formats. You can import either a CSV or TXT file with the data you want to analyse. There is also the option to import files from common SEO tools such as Google Webmaster Tools, Moz, Ahrefs, Majestic SEO and Screaming Frog.
Simply right click on the URL list area and the option to paste a list of URL's or import a file will show up.

Setting Up URLProfiler for the First Time
On the menu bar there is a settings tab, you want to choose "Speed"

Depending on the speed of your computer and internet connection you will need to work out the optimum number of threads for your machine, as an example I recently ran a check of 4000 links through the tool at 10 threads including whois checks in less than 12 minutes to grab some contact information the other day.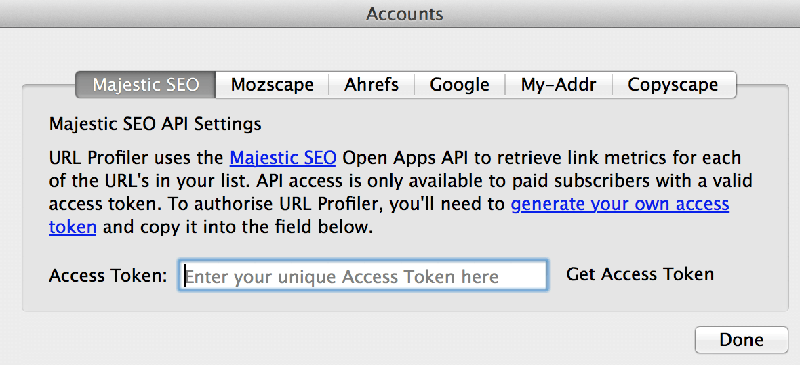 Now add in your API keys for Moz, ahrefs, MajesticSEO – you don't need these in order for the tool to work. For PageRank and Whois data you will need an account with http://my-addr.com/ it is very cheap and works out at about $1 per 100,000 URL's for PageRank checks and $1.63 per 1,000 whois lookups.
If you use the paid Moz API remember to select that in the drop down menu otherwise you will find your URLprofiler runs quite slow to throttle the number of API calls.
Choose your Level of Analysis
Once you have imported your URL's you want to select the information you are interested in obtaining. As I am using the tool as a backlink checker I will add my site into the domain to check field at the bottom.
You also want to click on the buttons at the bottom and add in your keyword Brand terms and Money Terms.
Now you want to select the different sources you will need to help with the analysis.
MajesticSEO
MozScape
PageRank
Ahrefs
Email Address
HTTP Status
Robots Access
You can also select things such as Copyscape or Readability score if you believe the site you are auditing might have been scraped or have built links via spun content.
The URLprofiler will also return the contact us page of the website, the anchor text of the link to your site, nofollow/dofollow, anchor type and if the link is still live.
For this review I downloaded a sample of 6800 links from Google Webmaster tools for TripleSEO and ran it with the above settings – it returned the following fields:
URL
Domain
TLD
IP Address
Server Country
Domains Sharing
HTTP Status
Original URL
Original HTTP Status
Content Type
Content Length
Title
Link Status
Hash
Target URL
Anchor Text
Anchor Text Distribution
Anchor Type
Link Type
Link Location
NoFollow
Rel Author
Rel Me
Total Domain Links
Total Domain Links Percentage
Site Type
CMS
Domain PageRank
URL PageRank
About URL
About URL Emails
Contact URL
Contact URL Emails
Write for Us URL
Write for Us URL Emails
Domain Emails
Registered
Whois Error
Root Domain
Whois Email
Whois Expiry Date
Whois Created Date
Name Server One
Name Server Two
Whois Registrar
Robots File Allowed
Robots Meta
Robots HTTP Header
Canonical HTTP Header
Canonical Head
As this data contains contact information and Whois data of hundreds of webmasters I don't really want to make it available for download but if you are interested in seeing the output contact me and I will be happy to send you an anonymised version.
Auditing your Links
Now that you have all this information it makes it much easier to categorise which links to look into first e.g. directory links with money anchors, followed blog comments with money anchors, sitewide footer/sidebar links with money anchors, non-branded author bio links.
If you do not have much experience with auditing unnatural links I wrote a post for AWR (my favourite rank checking software) earlier this year about classifying them.
As URL profiler returns contact information and whois data it makes it much easier to contact the webmasters concerned. You will often find that some of the sites (especially directories) are owned by the same people so grouping them together and filtering by email address really speeds up your process.
Another feature I like about URL profiler is that the domain field it returns is in the exact format you need for the disavow.txt file a little bit on concatenation and you are on your way.
Right now you can download a 7 day free trial version but with the amount of time you'll save with this tool each month you may as well just cough up the £9.95 😉
Related Posts: